Stormie X Jigs Second Litter
They're Here!! 3 beautiful little females and 2 wonderful little males. Born Febrary 9, 2003.

All 5 at 21 days. 2 Males on Left, 3 Females on Right.
Stormie surprised us on Sunday February 9, 2003. When we went out to the Kennels to do chores in the morning there were four little black balls of fur. We had to do a C-section for the fifth puppy but all are doing well. Puppies and Mother are doing great! If you would like more info on these wonderful little squirming balls of fur
contact us
.
The first litter was so well received that we have repeated the breeding of these exceptional dogs.
All of the dog's from the first breeding are firecrackers. They are not for the weak hearted. But, if you are looking to High Desire and Size this is the litter for you.
Jig's and Stormie are Great Parents and Stormie does a great job mothering litters.
Contact us
for more details on this wonderful litter.
Sire: Sundee's Jig A Two SH (OFA LR-65391F25M-T)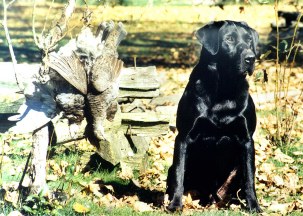 This is one of the best Labradors that Sundee ever raised. He has all that the avid Hunter wants in a dog. Speed, desire and power combined with gentle nature. Other Professional Trainers have said that "Sundee's Jig A Two" puppies are smart, tough and eager to learn.



Dam: Sundee's Winters Storm JH (OFA LR-107157G31F-T)





This female is typical of the outstanding working dogs that Sundee has bred, raised, trained and won trials with. She is also one of our favorites. Stormie is as comfortable on the living room floor as she is in the Field. This line has been free of disease for generations. If you are looking to improve your breeding or hunting program try a beautiful pup from this litter.

We, at Rockie Mountain Retrievers, only breed the kind of Labrador that we love best. Bred from the best working stock over the past thirty years. Those Labradors that have a zest for retrieving that cannot be described by words alone. Each of these dogs is capable of winning any type of formal competition. Both the Male and Female in this breeding are real animals with outstanding physical ability. At the same time, these are both great companion dogs.